Reid visited the facility's observation beehive and took in a presentation about the honey bee. The presentation left him wanting to know more.
Reid spent about two years researching beekeeping as a hobby.
He then purchased his first beehive (a nucleus colony of bees referred to as a nuc) in the summer of 2015.
"I put them in my back garden here in Springdale," he said. "They did really good over the winter. But, unfortunately, I lost my queen (bee) that following spring (2016). She didn't pass away but she didn't lay (eggs). The workers stuck around but without a queen, the colony fails."
There is only one queen bee in a hive. It's the queen that lays eggs.
Reid is the western Newfoundland representative for the Newfoundland and Labrador Beekeeping Association. The association supports beekeeping in this province. While there's a steep learning curve involved in novice beekeeping, the association's website notes that you don't have to know everything in order to get started.
"More and more people are getting into beekeeping now as a hobby," he said.
Reid noted the association is working on mentorship programs and they have an annual general meeting every year.
A hive on a hot day.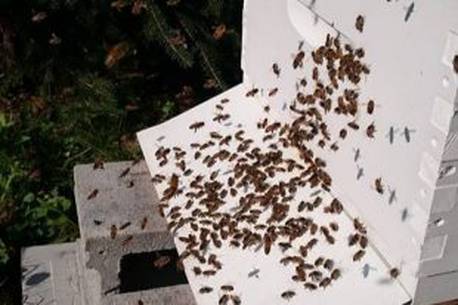 According to the association's website, there is often more than one way of doing something when it comes to beekeeping — more than one hive design and method of feeding honeybees.
Reid ordered his first hive from the NL Bee Company in Pasadena and bought his equipment from Tuck's Bee Better Farms in Grand Falls-Windsor.
Anyone interested in getting into the hobby should keep in mind that used equipment is not permitted in this province, he said, due to cross-contamination of pests and diseases.
Reid considers himself a novice beekeeper. When getting into the hobby he sought advice from veteran beekeeper Aubrey Goulding of Paradise Farms. Goulding put him in touch with other beekeepers, he said.
The start-up costs of beekeeping runs several hundred dollars, Reid said, and the hobby is a rewarding one.
"Bees all around the world are suffering so you're helping nature," he said. "To go out and see the bees doing their daily job is amazing, just to see how a colony works. To view that and be able to keep them and produce honey is a very rewarding thing."
Originally from Bishop's Falls, Reid has been living in Springdale for the past two years. He works for the Town of Springdale and sought the town's permission to establish his beehive before venturing into the hobby.
Reid said his wife Natasha (Reid) also supports his hobby.
Reid is now gearing up for this summer's activities.
He has ordered three hives and has his equipment all ready to try his luck at beekeeping again this summer.
"My neighbours absolutely love it. I've had several of my neighbours actually suit up and come in and view me beekeeping," he said.
For more information on beekeeping visit www.nlbeekeeping.ca